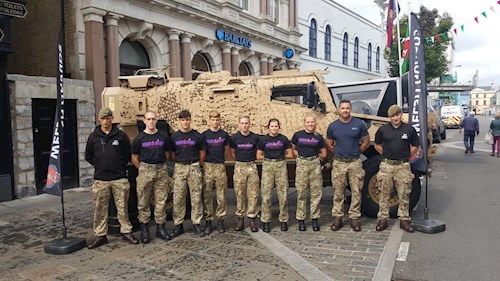 Staff and students from Bridgend Military Preparation College are set to take on a 50K running challenge to raise funds for two charities that are close to the hearts of the staff and students at the College.
The students will run 10K every day for the week commencing Monday 11th September
The challenge is being supported by serving personnel from the Parachute Regiment and Welsh Guards

Bridgend Mayor Cllr Pam Davies will be starting one of the runnning legs Wednesday 13th September
Dreams & Wishes is a charity dedicated to helping seriously ill children by making their dreams and wishes come true. Since the charity began in 2011, they have been working with families across the UK, providing vital support throughout children's' illnesses as well as helping to build happy memories by granting lifelong wishes.
The Motivation & Learning Trust (MLT), a charity that helps young people to improve their employability and reach their full potential in life. The staff, students and military personnel are calling for the public's support to sponsor the challenge as they prepare for the tough week ahead.
Steve Tallis, Lead Instructor at Bridgend Military Preparation College, has been preparing his students for the challenge and will also be taking part in the week-long fundraiser. The charity event came about after his students found out his daughter is unwell and they all felt strongly about supporting Dreams & Wishes as the charity has been a great support for Steve and his family. He comments:
"The students were aware I was having time off to go to hospital with my daughter. They asked if they could raise money for the hospital. So I told them about Dreams & Wishes and asked them to research the charity.
After the students finished their research they were enthusiastic to raise money for such a worthy cause. This is why we are running 50K over the course of the week."
Huw Lewis MBE is the founder and managing director of the College comments:
"My passion for the work that both the Motivational & Learning Trust and Dreams & Wishes do to give young people opportunities they thought they might never see, is worth the commitment that this demanding event requires. We are extremely proud of our staff and students at the Bridgend Military Preparation College and for all of the support from the local community, the Parachute Regiment and the Welsh Guards."
To sponsor the staff and students, visit their JustGiving page:
http://m.virginmoneygiving.com/mt/uk.virginmoneygiving.com/fundraiser-web/fundraiser/showFundraiserProfilePage.action?userUrl=MPCTBridgend3&isTeam=true&un_jtt_redirect
Back to news articles