Quality of Education
Our education programme has a simple aim, to create better citizens.
The MPCT Way is the approach your instructors will take to get the very best out of you while you are learning. This approach is active, fun and, because of the military style, helps you prepare for military service.
The whole programme has a military context. This means that you will learn about your career goals, the world of work, and how you can make a positive contribution to your communities.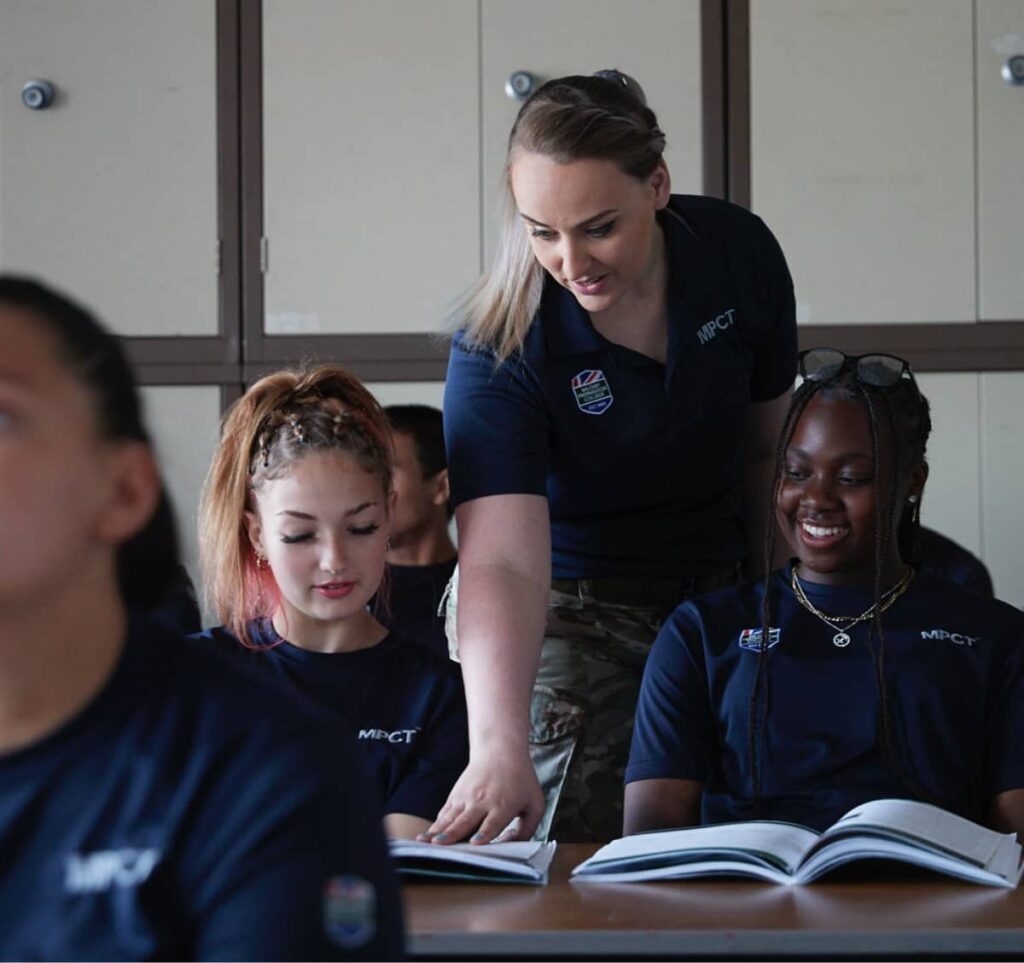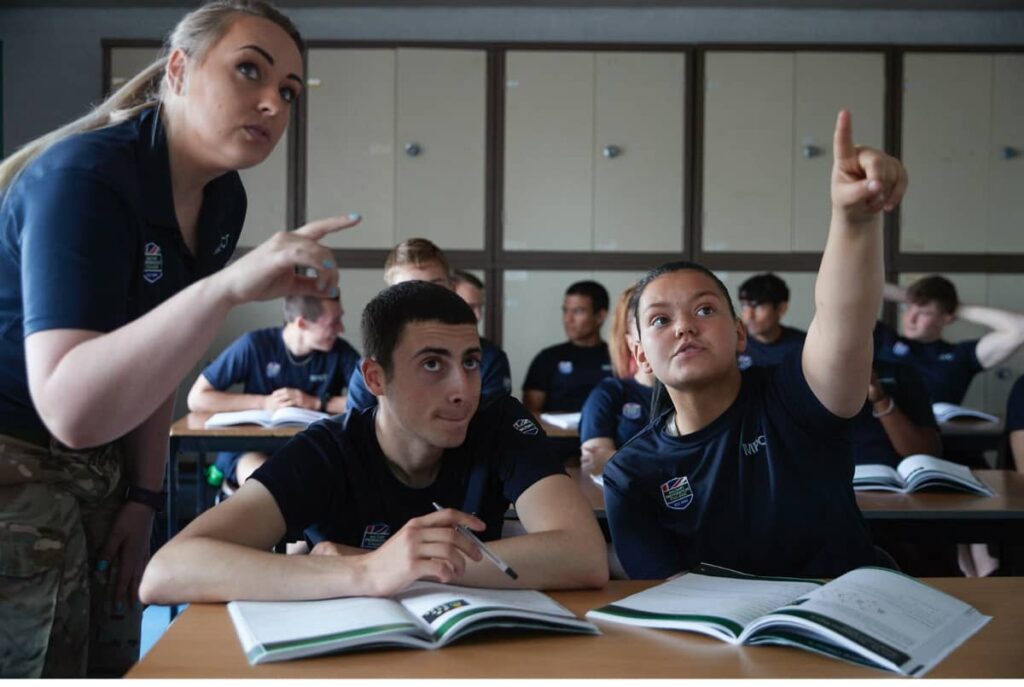 MPCT has helped her enormously and will help her with her future career. From getting her through the deferral, to helping her improve her fitness, they really pushed her. The deferral process was really hard for her, it really pulled her down. I think they are doing a great job. It has made my daughter more forward thinking.
Vocational Learning
You will follow a learning programme, depending on where you live and learn. Regardless of where you learn, you will conduct daily fitness training, weekly military training, and citizenship lessons. You will also take part in monthly careers education sessions, supported by the military and civilian recruiters and employers.
The themes covered in vocational learning include:
Physical Fitness for the Military
Understanding the Military
Teamwork for Military Service
Fieldcraft for Military Service
Health and Safety in the Military
Navigation Skills in the Military
Leadership Skills in the Military
Communication Skills in the Military
Learning in England
If you live in England, you will join the 16-19 Study Programme. You will be in-centre learning for 4 days per week, with blended learning planned for each Friday. During this programme, you will work towards Functional Skills in English and Mathematics, and an ETCAL Level 2 Award, Certificate, and Diploma in Preparations for Military Service.
Learning in Wales
If you live in Wales, you will normally join the Jobs Growth Wales+ Engagement programme. You will be in centre learning for 3 and a half days per week. During this time, you will work on your confidence, fitness, maths, and English while working towards your Essential Skills Qualification E1-L2. You will also take part in some of the Preparation for Military Service lessons.
When you are ready, you will progress on to the Jobs Growth Wales+ Advancement programme. You will study in-centre for 4 and a half days per week. During this programme you will continue to develop your maths and English, and complete Essential Skills Qualification E3-L2.
BENEFITS OF VOCATIONAL LEARNING
Preparation for Military Service curriculum will give you the skills, knowledge, and attitudes that support you to be successful in your application to join the military. This programme is delivered by experienced ex-service personnel and is supported by the military and civilian recruiters and employers.
You will take part in visits and experience days that give you a real insight into your career choices and help you to set realistic career goals.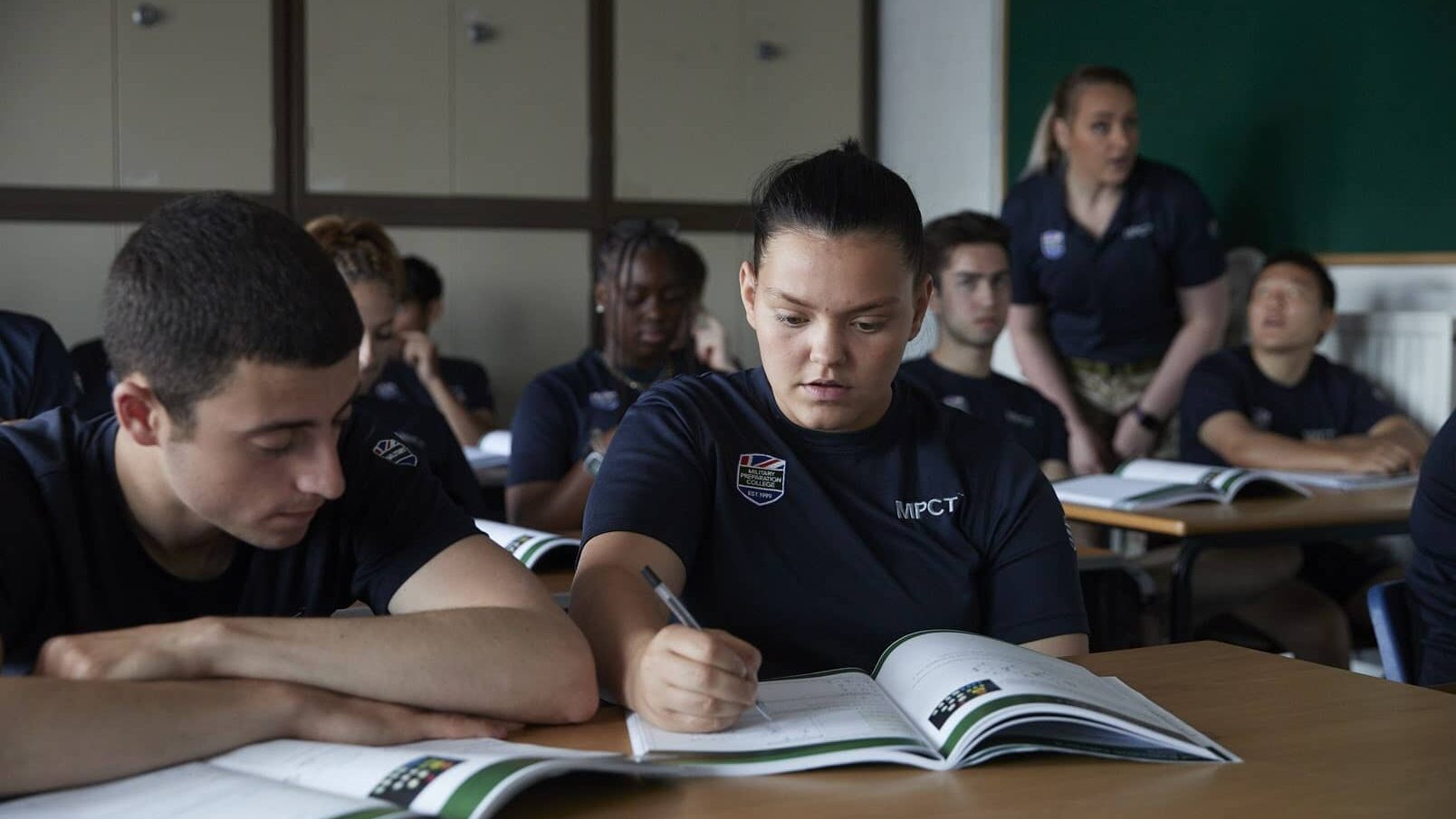 Maths and English Skills
Military Calculations and Military Communication sessions (MC2) will give you an opportunity to develop English and maths in a military context.
The embedded skills, based on real military life examples, make for a much more effective way of learning, remembering, and applying theory to practice on Military Training Days.
If you have achieved a grade 4 or above at GCSE level in maths and/or English, you will not be required to complete any Functional Skills assessments.
However, you will still participate in the MC² sessions and have monthly skills targets to work towards which are based on your own initial assessment and diagnostics of your skills completed at the beginning of your journey at MPCT. This will further develop your maths and English skills within a military context and prevent skill fade.
BENEFITS OF MATHS AND ENGLISH
With maths and English skills, you can access further or higher education, gain rewarding and meaningful employment, and improve your everyday skills and confidence.
The skills you gain at MPCT will help you in your daily life. They support you to understand and manage your money, help you manage your time and timekeeping, and provide you with the ability to communicate confidently with others.
There are some roles in the military, which may be more technical, where some qualifications are needed. Also, you will need to achieve certain qualifications in maths and English to get promoted.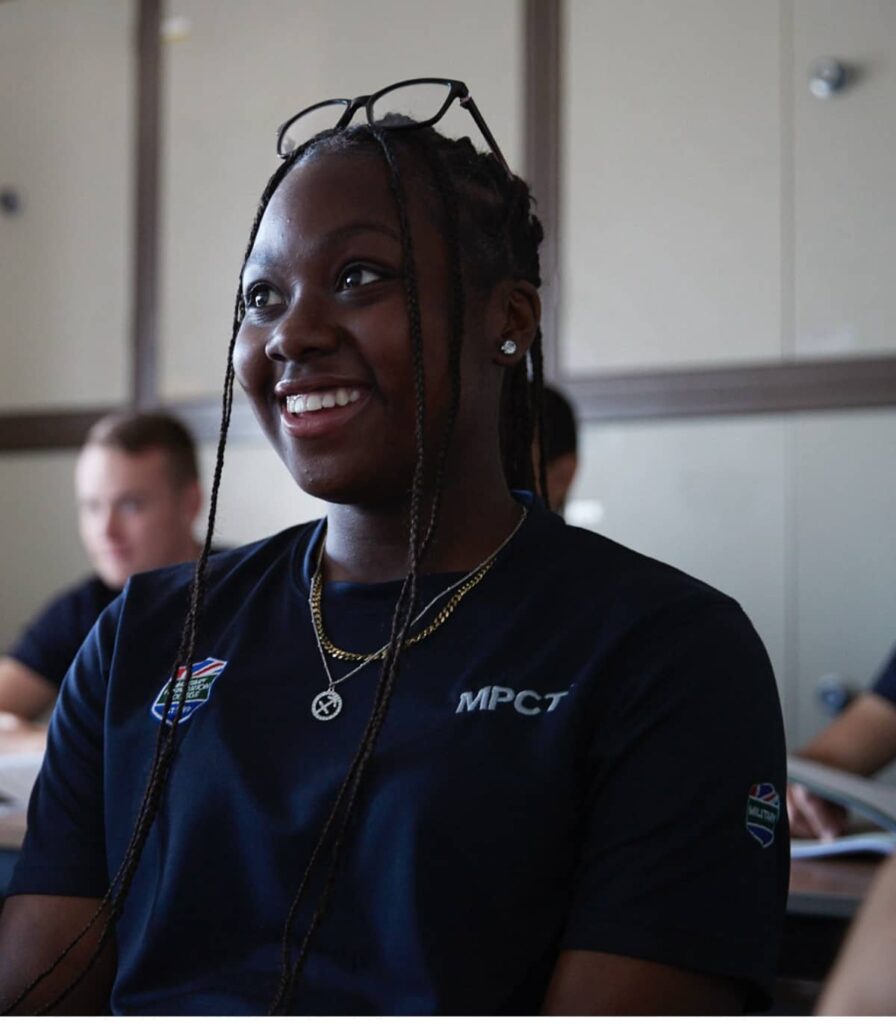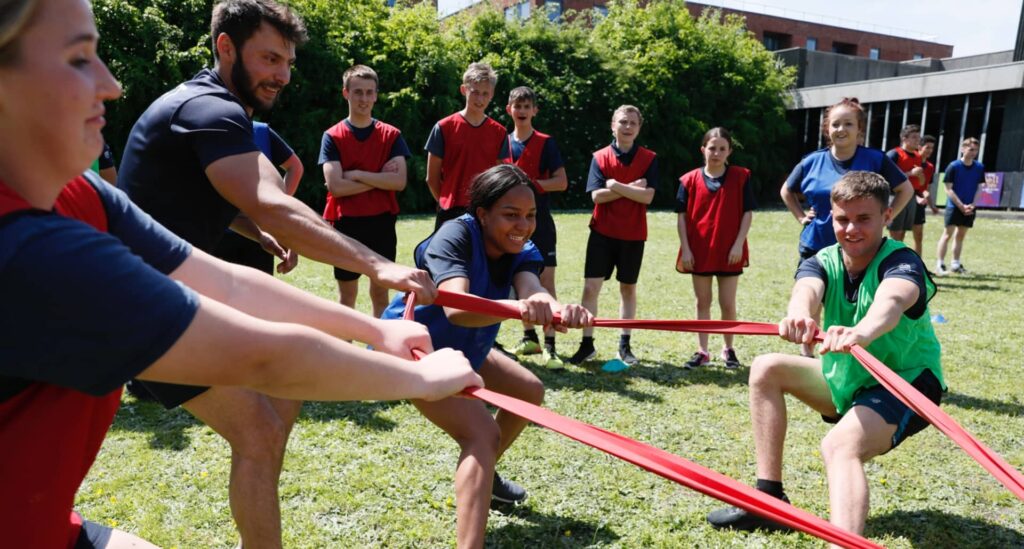 Physical Training
You will be expected to participate in physical training every day at MPCT. This makes up for 50% of the course at MPCT and will support learner preparation and progression into the military.
Regular fitness assessments will identify your current fitness level and set further goals to progress, while also determining your bib colour. The assessment comprises of 5 separate activities: 2.4 km and 2 km run, press-ups, sit-ups, pull-ups, and a Multi-Staged Fitness Test. Your fitness tests will help you prepare for military selection.
Your bib colour will change as you get fitter and stronger. Initially starting within a Blue bib, you will carry out exercises appropriate to your individual fitness levels. You will progress to Red bib once you have improved. When you're ready, and you pass the fitness tests, you will earn a Green bib.
BENEFITS OF PHYSICAL TRAINING
Being fit and healthy is an essential part of military life and civilian employment. Daily physical training helps you to concentrate and focus during lessons, and become more physically and mentally robust. The active programme at MPCT will help you form good sleep patterns at night and be better prepared for learning the next day.
Mr Poulter joined MPC in May 2020. He admits that academics have never been his strong point and that school did not work out the way he expected. Mr Poulter was born in the UK but grew up in France. His aspiration has always been to join the Military and he was keen to improve his Maths and English ability.

Mr Poulter has completed the application process for the Army. He starts training at Harrogate in March 2021. He is determined to do well and is joining the Royal Tank Regiment. He has already indicated that he is determined to complete all the Functional Skills levels at MPCT or in the Army.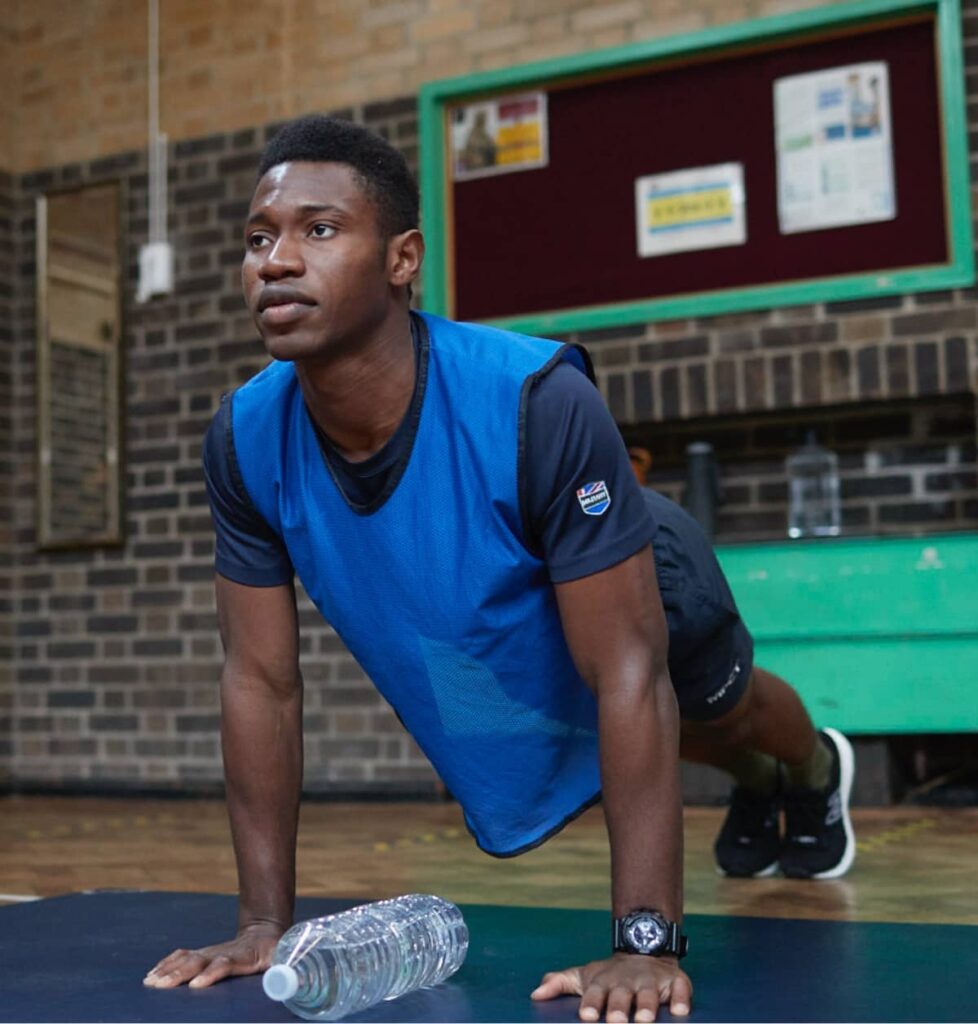 Assessment
Throughout your time on the course, your instructor will regularly monitor your progress in vocational, maths, and English lessons, providing you with structured feedback and targets, both during and at the end of every unit. As you develop your skills and knowledge, your instructor will then ask you to sit for a mock assessment to determine your state of readiness for the live assessment. You will use the OneFile e-Portfolio system to gather evidence for all your vocational qualifications throughout your course.
When you are ready, you will sit your maths and English assessments and submit your vocational evidence.
During maths and English assessments, both in England and Wales, you will complete a series of controlled tasks, online and paper-based assessments. You will also take part in practical speaking and listening assessments. The type of assessment will vary depending on where you study, the qualification level, and the subject.
Once you pass your maths and English assessments you will receive a qualification certificate and a gift from MPCT rewarding you for your hard work and effort. If you have achieved a GCSE grade 4 or above in maths or English, you will not have to complete skills assessments.