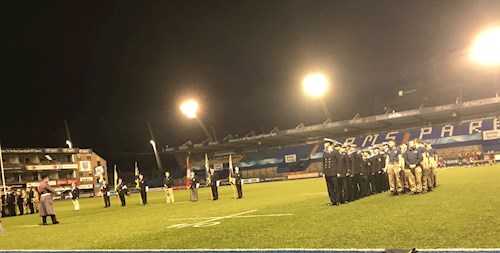 Cardiff Military Preparation College students were given the honour of attending and performing a log display drill at Women's XV Remembrance Match – which raises money for the Royal British Legion. The match was played at Cardiff Arms Park where the UK Armed Forces Women took on the Wales Women's national side this evening.
12 students from Cardiff MPC formed part of the parade alongside serving military personnel. The Welsh Guards were at the Arms Park to flank the standard bearers of the Royal British Legion at the pre-match Remembrance ceremony. After the national anthems, a bugler announced reveille to open the Remembrance ceremony and close the two minutes' silence to remember the fallen.
At half-time the MPC students performed a stunning log display that showed their physical strength and coordination, as well as their confidence in front of a big crowd supporting the two teams. One of the Cardiff MPC students at the game, 17-year-old Morgan Brewer, commented:
"We started the day off by laying a wreath at the Field of Remembrance at Cardiff Castle and now this evening we are here and we will continue to remember those who we have lost serving in our Armed Forces. We want to show our respect."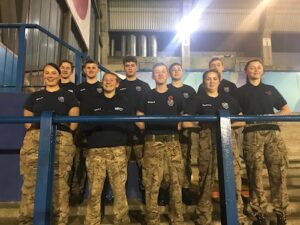 Caitlin Leach, another student from Cardiff MPC had the opportunity to watch members of her family take part in the game. Three of the Wales Women's players are Caitlin's cousins and her aunty played in the UKAF side. Caitlin is a keen rugby player herself and hopes to be able to play rugby in the Army as she is in the application process and wants to become a dog handler.
"I have played rugby since I was 6 years old and I play for Bargoed now so I hope to be able to continue playing in the Army, I'm in the application process now."
After the match, the trophy presentation was guarded and honoured by two of the Queen's Dragoon Guards in full ceremonial dress.
Huw Lewis MBE, founder and managing director of MPCT, comments:
"It was an honour and a privilege for our learners to play such a public role in today's Remembrance tribute in Cardiff. As an organisation, we have considerable respect and appreciation for every man and woman who has served, and is currently serving, in the Armed Forces. Today was an opportunity for us to publicly recognise this."
Back to news articles