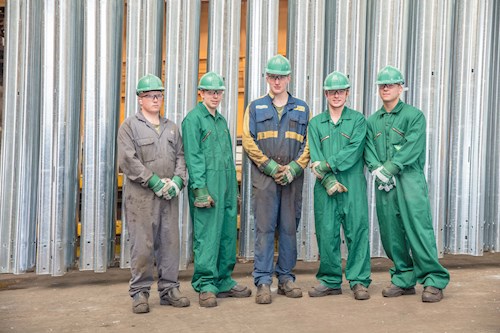 Six ex-students from the Military Preparation College have started exciting and rewarding careers with the UK's largest galvanizing organisation, Wedge Group Galvanizing in Newport.
Alex Upton, Jacob Burnett, Ieuan Gittings, Joel Williams, Josh Wall and Kurtis Adams have all been students at the Newport Military Preparation College, a free-to-attend college for 16-19 year olds designed to develop students' physical fitness, self-confidence and employability skills for civilian and military jobs.
They all wanted to pursue their career ambitions by putting in to practice the skills and qualities they had gained from attending the Military Preparation College, based at the Army Reserve Centre Raglan Barracks.
Newport Galvanizer's General Manager, Ed Saville, recognised the benefits of employing ex-students from the College as they are so well prepared for the world of work by the Instructors, the qualifications and the physical training. The College prides itself on adhering to a set of core values which are embedded throughout the training programmes. The students are encouraged to develop these values that are role modelled by all of the College Instructors which will then remain with them throughout their careers. He comments:
"The ethos of the MPC students is exactly what we want. They have developed skills and behaviours we can work with and develop in the workplace. We value their time-keeping, confidence, dexterity and fitness. We don't want people off sick, so fit and healthy young people from the MPC is perfect for us."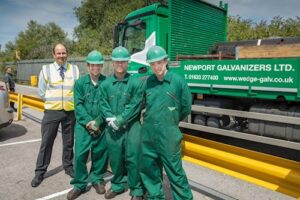 The College's active learning approach helps young people move forward with further education, training and other employment routes by instilling valuable core values and life skills that are transferable to a range of vocations. At least 50% of each and every day is spent taking part in physical exercise and learning outdoors.
The group of 6 all joined the Military Preparation College to gain qualifications, develop their fitness and employability skills to get them on to the first step of their career journeys. Three of the six are in full-time employment with Newport Galvanizers and the other three are on Apprenticeships at Newport Galvanizers.
Alex Upton, who joined the college  on the 1st July 2016 and progressed to Newport Galvanizers in June 2017 comments:
"The Military Preparation College gave me a confidence boost which has really helped me to make friends and have the confidence to communicate with my new colleagues. The physical training that I did at the College has been so important in preparing me too as you have to be fit for the job as there's lots of physical work and heavy lifting.
"I've made a lot of friends here at Newport Galvanizers, it's a good environment to work in as well because it's practical and I love that. I'm now working towards my NVQ and I'm earning a decent salary. I've just passed my fork-lift licence too (which Newport Galvanizers pay for), so I'm constantly developing and getting new skills to help progress my career."
Newport Military Preparation College is one of 21 of its kind throughout England and Wales. The training organisation, which is Government funded and run by ex-military personnel, aims to help youngsters from all backgrounds realise their full potential through an 'active learning' curriculum.
For those interested in careers in the Armed Forces, the College provides them with the best possible chance to pass selection and complete basic training. For others, it offers a chance to acquire valuable new life skills and qualifications for either further education or employment.
Huw Lewis MBE is the founder and managing director of the Military Preparation College. He comments:
"We are really pleased to see that employers in our local communities recognise that our students gain the key transferrable skills and values from their time at the College that will make them stand out in the world of work. As an organisation we pride ourselves on offering an alternative education pathway to young people and helping them to be the best that they can be – in civilian employment and in the Armed Forces."
Newport Galvanizers are keen to continue working in partnership with the College to meet their recruitment needs and ensure that they are able to secure fit, confident and competent young men and women for their business.
The Military Preparation College welcomes applications and enquiries from both prospective students and parents and guardians. Open days are held every Thursday from 10am – 12noon and 2pm – 4pm. Those interested in finding out more can visit www.mpct.co.uk or call 0330 111 3939.
Back to news articles