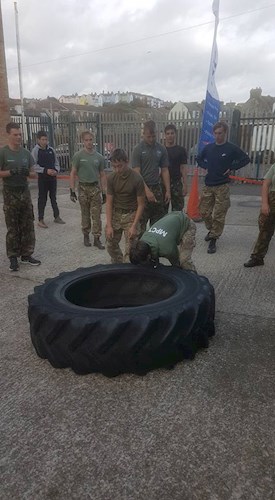 Over 30 students attending Hastings Military Preparation College took part in a tough challenge flipping a whopping 500lb tyre for 12 hours on Thursday 12th October to raise money for the Motivation and Learning Trust (MLT). The charity supports 16-19-year-old students at Military Preparation Colleges across the UK who need extra financial support and assistance to reach their full potential.
By the end of the challenge the tyre had travelled 12.5 miles during the 12 hours and raised close to £1000. Every student worked tirelessly for the whole day and into the night with the support of staff, friends, family and sponsors to complete the challenge.
The Worshipful Mayor Cllr Judy Rogers also visited the College to support the students as they completed the charity event.
Lead Instructor, Mark Horseman comments:
"We were brilliantly supported by parents and local friends throughout the day and had a visit by Her Worshipful The Mayor of Hastings Cllr Judy Rogers."
Back to news articles