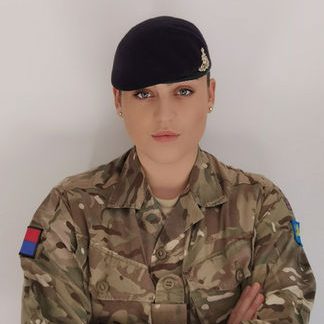 Former Learner, Sgt. Emma Owen, has been nominated and is a finalist for The Inspirational Award at the Women in Defence Awards 2020.
The Women in Defence Awards are to recognise the value and importance of women in defence as well as to provide inspiration for those currently serving and young women with Armed Forces aspirations.
Emma Owen discussed her time with MPCT, sharing that "MPCT prepared me for the Army more than I could imagine. Specifically, Staff Roberts [MPCT Bangor]. The fitness aspect before I went into training was a head start that I didn't know I even had.
The background knowledge the college gave me whilst I was there was so helpful when I looked back that I hadn't even realised. The attention to detail when it came to my kit and sticking to timings was key. This all helped my training.
Going through my career, I realised the college gave me a sense of pride in everything I did and I strive to do it to the best of my abilities – the staff at MPCT Bangor were paramount to this."
To find out more about Emma's nominations, follow this link; https://bddy.me/3pVTwSR
Back to news articles