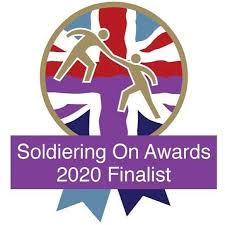 We are so thrilled to be announced as finalists for the 2020 10th Anniversary Soldiering On Awards!
MPCT have been shortlisted for the Business of the Year – Community Impact Award – sponsored by Cisco
Honouring a business that was started up by an individual linked with the armed forces, that has a made a real impact within the Armed Forces Community.
We are up against two great finalists, Armour to Barber and Turn to Starboard
A little more about the Soldiering Awards
The Soldiering On Awards (SOA) recognise the outstanding achievements of those who have served their country, and the diverse people and groups who work together in support of the Armed Forces Community. We aim to encourage support for this remarkable community by celebrating the achievements of the people, teams and businesses within it.

We wish all the best to the other nominees, and look forward to attending the event and spending the evening celebrating the outstanding achievements of current and former service men and women, their families, animal partners and all those who support the Armed Forces Community.
Back to news articles