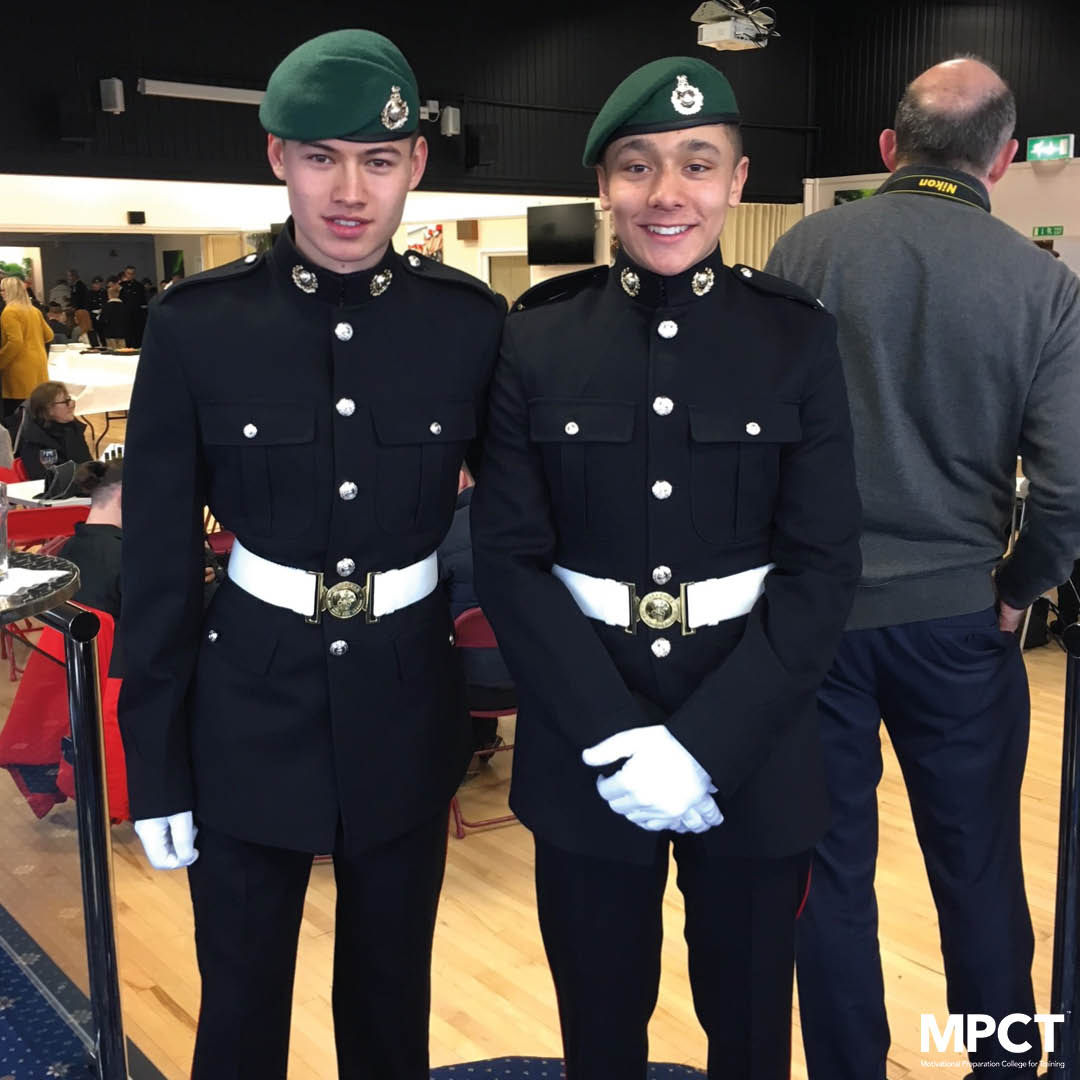 On Friday 1st of February, not one but two of our ex-Learners received their green berets at the Royal Marine Commando Training Centre in Lympstone.
Kurt Smith of Military Preparation Portsmouth and Brandon Ingram of Military Preparation Birmingham passed out and were inspected by Ray Mears, with their families and MPCT Instructors in the audience also.
Also in the audience was our newly appointed Royal Marines Liason Officer, Si Richardson, a former Major and final appointment as 2IC of the Corps Colonel Dept at CTCRM. MPCT's engagement with the Royal Marines is ever increasing and our Learners are highly thought of at Lympstone. Colonel Mike Tanner OBE in a short interview on the day commented;
How does MPCT impacts on the RM recruitment process?
MPCT have c2000 Learners on the programme at any one time; the vast majority of which have an aspiration to join the Armed Forces. With little intervention, in the last 12 months, MPCT have put 31 of these learners into RM Ph1 Trg (the highest single cap badge of all 3 Services). With a collaborative approach, which is being rolled out as we speak, the Corps Colonel is targeting MPCT Colleges with VT Team visits, MtM (-) events and Mobile RMAD. These interventions, has the effect of motivating and inspiring that cohort to consider a career in the RM – with contact time with a green beret being the most important factor in this process. As the college footprint grows, the aspiration (as stated to CGRM by the MD) is to push 5 Learners per college per year into Ph1 Trg – c135. That would be success.
How does MPCT prepare the Learners to undertake selection at CTCRM?
In addition to the above, MPCT have adopted the RM physical standards as their standard; in that, all exercises are done to the beep and at RM standards (implemented post a visit to CTCRM in 2018). They teach IMF as the way to deliver PT and prepares them for what lies ahead. The DoCC has recently increased MPCT allocation of L@L courses – currently 4 (aspiration to ride to 6) per TY. They also have an All Arms Combat Section (RM & Para aspirants ) with a focus being placed upon them and help and guidance is available from the MPCT liaison officer (Maj Si Richardson (retd)) is always on hand to ensure they are prepared and up to date with all matters RM. The 32 MPCT Learners who are either in the process or have expressed an interest come to CTCRM are pushed slightly harder than the average L@L Cse that arrives – this is because of the standard of their preparedness. Whilst here the Learners undertake the Recruiting Test and the 1.5 mile run and, if successful (the vast majority are) the results are forwarded to their respective AFCO in a bid to shorten their 'inflight' time. Just as important as the physical preparation is the mental preparation that occurs whilst learners are at MPCT. The college has a strong ethos and fosters an approach and mindset that is similar to that required both on selection and on into recruit training. On average this means the 'shock of capture' on PRMC is much reduce which leads to candidates, on average, performing better.
We are very proud of the standards our Learners display, and are hugely encouraged by the ever-growing relationship with the Royal Marines. Congratulations to our ex-Learners Mr Ingram and Mr Smith!
Back to news articles