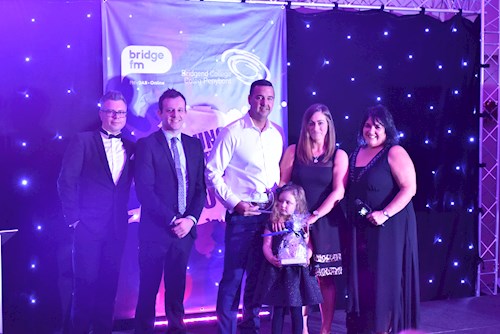 Bridgend Military Preparation College (MPC) won the Bridge FM Young Fundraiser Award at the special awards ceremony held on Friday 24th November at the Heronston Hotel & Spa.
The Bridge FM awards recognise and celebrate the amazing achievements of local young people. The awards are given to those who have made excellent progress in school or demonstrated extraordinary bravery, or maybe they've excelled at sport or been committed to raising funds for charity.
The Bridgend MPC students did a phenomenal job of raising well over £8000 for numerous local charities including the Army Benevolent Fund, The Motivational Learning Trust which is the Military Preparation College's own charity, The Royal British Legion and Dreams and Wishes!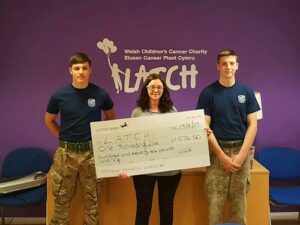 To raise such an amazing amount of money the students set themselves some pretty tough challenges that involved running two half marathons, a 24-hour log run and a gruelling 50k challenge where they had to run 10 kilometres every day for 5 days!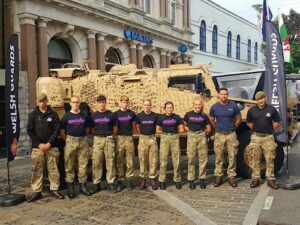 The students are always striving to do more. They're currently planning to take part in the Pen-Y-Fan challenge to raise money again for Dreams and Wishes.
The ambition, commitment and dedication to complete these physically demanding challenges is admirable. There is a driving force behind all of these students and their impressive achievements – that is their Lead Instructor, Steve Tallis.
Steve has worked at the Military Preparation College since 2009 and since taking on the position of Lead Instructor at Bridgend MPC he has worked tirelessly to give his students the best experience in education and training they have ever had. Not only is Steve committed to his students, but also to his local community. Steve and Bridgend MPC are well known throughout the local area for the voluntary work they do and the fundraisers they take part in to raise money for charities close to their hearts.
Friday was an extra special night for Steve and his wife, Sam, as not only did the MPC students win the Young Fundraiser Award, but Steve's daughter, Mali, won the Child of Courage Award, sponsored by Mc Donald's.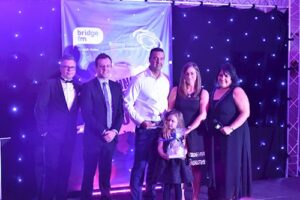 Mali is just 5 years old and was nominated by her proud Dad, Steve.  Steve's nomination came from his heart. These are his words:
"My little girl has had the toughest year of her life following a diagnosis of a brain tumour and a rare condition called Langerhans Cell Hystio-cytosis. This is a condition that affects bones and organs.
She is a true inspiration to us all and is such a little star. The chemo and steroids she's receiving have bad side effects. Despite this, she has a determination to carry on as normal. She lets nothing get in her way of being a normal little girl.
She's missed a lot of school this year but has made up for it with a teacher coming out to our home. Her enthusiasm for learning has meant she's not falling behind as we first feared. She doesn't complain about her situation, she gets on with it.
Our daughter's courage and positive attitude has kept me and my wife going at this difficult time. It would be an honour if our brave little girl could pick up an award for her courage".
Steve nominated his students and his daughter for both of the awards that were won on the night. All of the staff and students at MPCT would like to say a big thank you to Steve for his unrelenting commitment to his students, his local community and his family.
Back to news articles