For the second year in a row, the Army School of Physical Training (ASPT) worked in partnership with MPCT by providing a venue for the annual Aldershot Awards Ceremony that took place on Friday 10th November. MPCT staff and students were also invited to the Service of Remembrance at Fox Gym for a poignant tribute to remember those who we have lost serving in our Armed Forces.
70 students from the Aldershot Military Preparation College, which forms part of the MPCT group that won the TES Training Provider of the Year 2017, received awards at a public ceremony at the ASPT. The students all demonstrated their public speaking, confidence and teamwork skills in front of a packed audience including VIPs, friends and family. The students were all honoured by MPCT in recognition of the progress they have made towards reaching their full potential and moving closer to their career ambitions in the military, further education or employment.
Matt Besagni, 17, from London, was one of the students who demonstrated his public speaking skills as one of the student presenters at the awards. Mr Besagni is looking forward to a career in the Royal Marines. He comments:
"The Military Preparation College helps you because you learn that you can push yourself harder than you expected. The staff fill you with confidence and make you believe you can do it – whatever it is – and they give you responsibilities so you want to do well.
Being at the ASPT for the Remembrance service is special too because it's important to remember past soldiers and it makes you proud to be part of something like this."
Alexandria Nugent, 16, from Woking was another student who showed her confidence and public speaking skills at the awards as she delivered a reading from Rudyard Kipling's If poem. Alexandria had initially planned to complete her A-Levels as she wanted to work in A&E but then found the MPCT website and the opportunities to join the military and develop her fitness really appealed to her. Since joining the College in September 2017, she has seen the transformation in herself, physically, mentally and in her confidence levels. She reflected on her progress so far:
"The College has helped me in every aspect of my being – with public speaking like reading the If poem, my fitness and confidence levels. I've made loads of new friends who I think will be there for a long time as we have lots of shared experiences and we all help each other."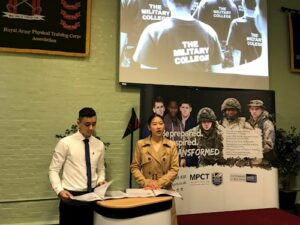 The Ofsted Outstanding college is open to 16-19 year olds from Aldershot and surrounding areas, and provides a unique 'active learning' curriculum, meaning that students spend 50% of each and every day working on their physical training and development. This is supported by skills development and vocational study. The college is more accessible than others in the local area as it offers a 'roll on, roll off' programme, so students can join for as long or as little as they need.
Aldershot MPC has replaced (and relocated from) Farnborough Military Preparation College which first opened its doors in September 2009 and was previously based at the Samuel Cody Specialist Sports College. It has now relocated to Browning Barracks in Aldershot in order to meet local demand and make the course more accessible for young people in the area and is now Aldershot Military Preparation College.
"We are pleased to bring our unique active learning approach to the heart of the Aldershot community. We firmly believe that building vital life skills is the most important thing that a young person can do, and our new centre will support the personal growth of 16-19 year olds in the local area, helping them to succeed in their future lives."
Aldershot MPC's new home has lots of history; it is the old Parachute Regiment's Depot at Browning Barracks. The location provides fantastic opportunities for MPC students as it is based within the Garrison with great access to Garrison facilities with links to residential regiments including the Garrison Commander, the Grenadier Guards, the Scots Guards and The Queen's Own Gurkha Logistics Regiment.
Back to news articles