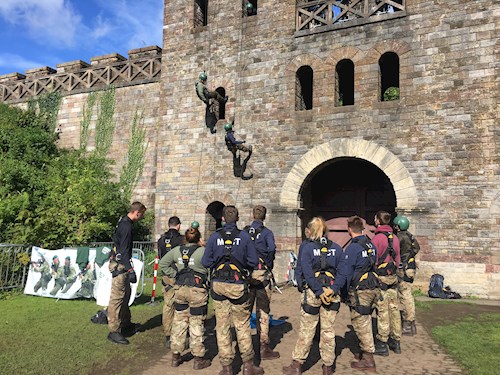 Over 150 students from the Military Preparation College visited Cardiff Castle on Friday 22nd September to take part in an action-packed insight day with the Royal Marines
The 'Meet the Marines' day took place in the grounds of Cardiff Castle, it gave those students attending the College a unique opportunity to gain practical experience of what a career as a Royal Marine involves. Throughout the day, the Royal Marines stretched and challenged the students, with an intensive schedule of activities.
Students came from five Military Preparation Colleges across South Wales (Cardiff, Bridgend, Newport, Swansea and Merthyr) to take part in the action. This included abseiling down the Castle walls, physical training sessions, briefings and demonstrations from the Royal Marine Commandos and an opportunity to go out on the inflatable raiding crafts on the River Taff.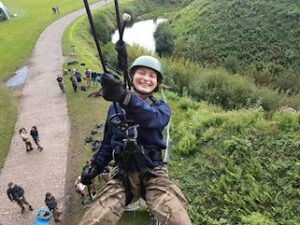 One of the highlights of the day included a demonstration of unarmed combat from the Commandos. Staff, students and the general public all enjoyed that spectacle.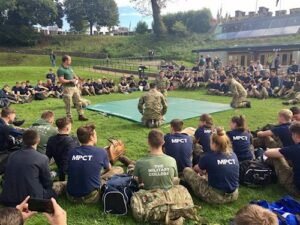 Miss Hood, Cardiff Military Preparation College student, comments:
"It has been really fun, the Marines are working us hard and everyone is enjoying it. I've been able to speak to them about what I want to do and get advice about getting into the Marines. Other students who have come here today who want to join the Marines have had an insight into what it's like and it helps them decide if they want to continue with their Marines application. For others who didn't know what they wanted to do it helps them decide if the Marines is a job choice they are interested in."
The Military Preparation College welcomes applications and enquiries from both prospective students and parents and guardians. Open days are held every Thursday from 10am – 12noon and 2pm – 4pm. Anyone interested in finding out more can visit www.mpct.co.uk or call 0330 11 3939
Back to news articles