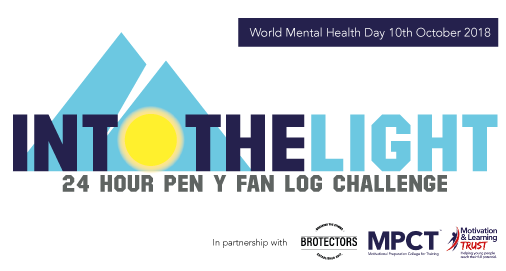 In support of World Mental Health Day on Wednesday 10th October 2018 young learners from around South Wales will take part in a charity 24-hour log carry of Pen Y Fan Mountain, the highest peak in south Wales, situated in the Brecon Beacons National Park. At 886 metres above sea-level, learners will support in continually carrying the log up and down the mountain for the 24 hour period. The event is named as 'Into The Light'.
The significance of the log will represent a burden, of which, collectively shared through communication and togetherness can be successfully supported throughout challenging times. The 24-hour period will further represent this burden; being supported by many from transitioning from the darker and more challenging times to a lighter and more positive path.
The event is a collaboration between two organisations; MPCT and Brotectors. Since its formation in 1999, the Motivational Preparation College for Training (MPCT) has been dedicated to offering opportunities to young people through training and education. Brotectors is a Mental Health Support organisation which looks to support young men and women both through online support and workshop based activities.
The aim of the event is to raise awareness of mental health and to raise funds for the Motivation & Learning Trust (MLT). The vision of The Motivation and Learning Trust is to support, develop and enhance life opportunities for MPCT learners past, present and future. We raise and administer funding in order to offer young people support in crisis and facilitate bespoke, inspirational educational opportunities that will ensure they become meaningful and contributing members of society who are confident, competent and fully aware of their role in being the best they can be.
Please support this fantastic event by donating HERE
Back to news articles