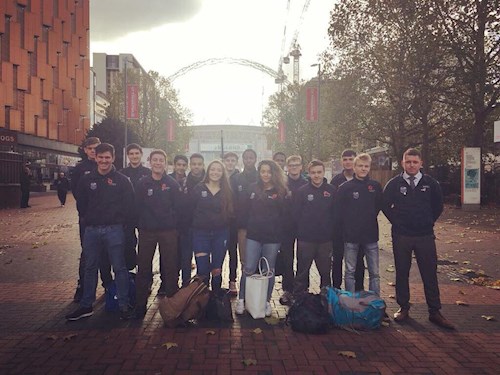 London Military Preparation College students tonight had the honour of forming part of the flag parade in the opening ceremony at Wembley Stadium for the England vs Germany game, as England continue their preparations for their 2018 World Cup campaign.
On the eve of Armistice Day, tonight's fixture sees both teams wearing poppies on their armbands with pride in a poignant tribute to remember those who have given their lives in war. As the Last Post was played before the game kicked off, not a whisper could be heard in the packed stadium.
For all of the students, it was a really poignant way to show their respect and remember those who have lost their lives in war. Students from all 22 Military Preparation Colleges across England and Wales have been supporting the Royal British Legion by selling poppies, raising thousands of pounds for a charity that is close to the heart of MPCT.
The London students spent the whole day at Wembley Stadium to prepare for the parade with rehearsals running throughout the day. They then had the chance to visit the fan zone and tour the stadium before taking part in tonight's parade and they are now watching the match hoping that the Lions shine in tonight's classic fixture.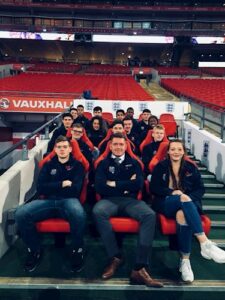 This is the third match at Wembley Stadium where London MPC students have formed part of the flag parade before kick-off. The College now has an on-going commitment to supporting the games held at the stadium in the capital. The students absolutely love the opportunity to demonstrate their skill sets in front of a stadium crowd and then getting to watch big games like tonight's fixture, with the world's best footballers.
One of the students taking part in the flag parade, Miss Tsangari, talked about how she was feeling about performing in front of tens of thousands of people:
"I'm feeling really nervous, but I'm excited at the same time."
Huw Lewis MBE, founder and managing director of MPCT, comments:
"It was an honour and a privilege for our students to play such a public role in tonight's international friendly at Wembley Stadium, on the eve of Armistice Day. As an organisation, we have considerable respect and appreciation for every man and woman who has served, and is currently serving, in the Armed Forces. Today was an opportunity for us to publicly recognise this."
Back to news articles