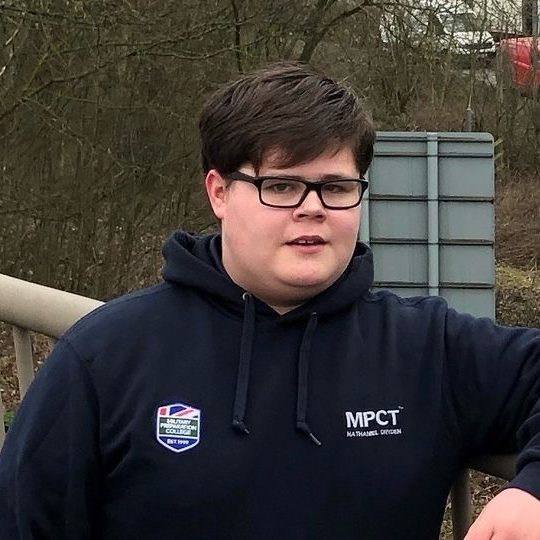 A Learner at MPCT's Nottingham Military Preparation College has been nominated for a top award for his compassion in a crisis.

Seventeen-year-old Nathaniel Dryden, from Derby, was on his way to his weekend job at a Covid testing centre when he saw a young man preparing to throw himself from a motorway bridge spanning the A38.

Without hesitating, Nathaniel rushed to the scene and not only talked the man down but persuaded him to travel with him and his work colleague to the testing centre where the emergency services were called. When the man – believed to be in his early 20s – refused treatment, Nathaniel encouraged him to call his parents, who then took him to Royal Derby hospital.

And now, in recognition for his quick thinking and compassionate response, instructors at MPC Nottingham have recommended Nathaniel for a prestigious British Citizen Youth Award.

Nathaniel, a former Merrill Academy pupil, has attended MPC Nottingham since September and regional operations manager Laurence Corbett said his actions were "completely in character and deserving of this award.

"I am extremely proud of Mr Dryden's actions which potentially saved the life of another young person in crisis," said former Royal Military Academy Sandhurst Instructor Mr Corbett. "We would all like to hope we would behave with equal calm, common sense and compassion in such a situation and it is immensely to his credit that he displayed those qualities in such distressing circumstances."

Nathaniel said he was surprised and "really pleased" to be nominated for a British Citizen Youth Award – granted to inspirational young people by an independent assessment panel in recognition of their achievements. "My only thought at the time was to get the man to safety," said Nathaniel. "He was very upset and distressed and I just wanted to get him off the bridge." He added that his family, "particularly my dad" are "very proud" of his actions.
Back to news articles