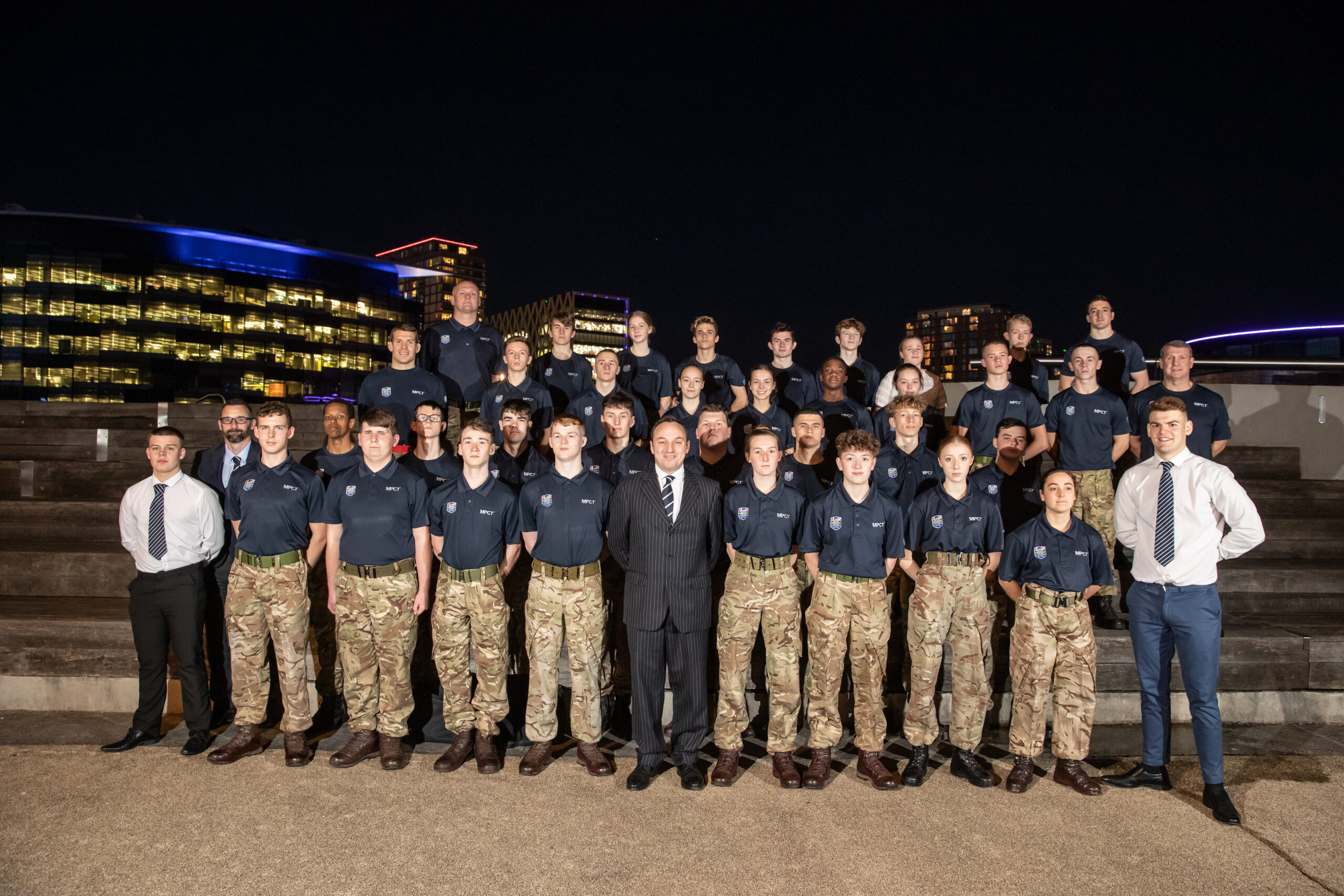 On Wednesday 16th October 2019, Military Preparation College Manchester hosted its Launch Event at the Imperial War Museum (North) Manchester. Housed in an iconic aluminium clad building, representing a globe shattered by conflict – IWM North is the first museum in the UK to be designed by internationally acclaimed architect Daniel Libeskind. Libeskind created the building to enhance the museum's subject matter – the sharp angles, sloping floors, leaning walls and imposing exterior are deliberately in place to unsettle and disorientate you, intensifying the collections and stories within.
Learners from the newly opened Manchester College were joined by Learners from MPCT Wrexham who supported the event with their Active demonstrations, presentations and Icebreakers for which they should be all be very proud of.
VIP's and parents made their way to the incredible exhibition area to await the opening address and welcome.
The launch was official opened by Col Nick Mackenzie, Assistant Director Recruiting at 7.30pm, followed by our two presenters Miss Ellie Sawyer and Mr Aaron Shelley who spoke with passion and confidence to a crowd of over 120 filled with VIPs and dignitaries about their newly found experiences and daily lives at MPCT Manchester.
We moved to active demonstrations by the Learners from MPCT Wrexham and MPCT Manchester which took place within the exhibition area, The crowd were treated to Log Demonstrations, PT displays and drills.
The Icebreakers were then delivered to a backdrop of objects from conflicts that Britain and the Commonwealth have been involved in since the First World War to the current day.  This was  followed by the ever spine-tingling IF poem by Rudyard Kipling.
As the evening came to an official close, where we were joined on stage by Cath Possamai CEO – Recruiting Group at British Army.
Cath Possamai added;
We should celebrate the opening of another college where MPCT will be changing more lives for the better.
Feedback from our guests was incredibly positive. Councillor Rachel Massey, Assistant to the Portfolio Holder for Children's Services of Rochdale Metropolitan  Borough Council was very impressed with the Learners and the MPCT standards,
Rachel wished to added;
It has been a great opportunity to understand what inspires the Learners to do this and how it helps them find a way and a purpose that they felt they needed in life.
She personally congratulated the Learners, which she believes have inspired her to learn more about what is important to our young people and what would make them better for our country.
A full album of images from the evening can be viewed here Manchester Launch Event Album
To hear more about how the evening was received by those who attended, take a look below:
Back to news articles