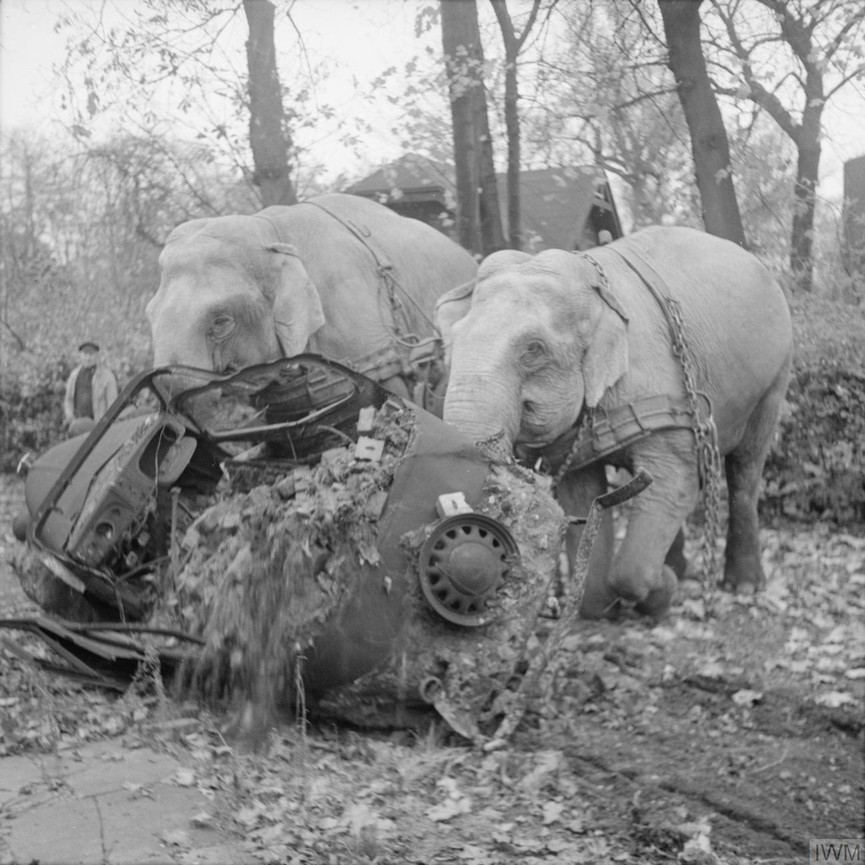 Animals have a rich history of service in the Armed Forces, performing vital roles. Obvious examples of this include horses, pigeons and dogs, however across the World, a wide range of animals have been used to support those in active duty. Animals not only provide a valuable resource, but also incredible companions.
We've compiled the top 5 animals that have served in the British Armed Forces that you may not know:

Kiri and Many the Elephants, World War Two
Elephants have a long history in warfare, but this is usually considered to be from the Roman Era. However, in World War II, elephants were used to carry ammunition, weapons, supplies and building bridges.
Additionally, in the aftermath of Germany's surrender from World War II, ex-Circus elephant Kiri from the Hagenbeck Zoo in Hamburg, Germany was commissioned by the civil authorities to support in clearing debris such as wrecked cars.

Reynard the Fox Cub, No.32 Squadron, RAF
In 1918, No. 32 Squadron of the RAF adopted a fox cub as their mascot during their time in France.
Mascots provide a vital morale boost for troops and this was especially evident in the First and Second World Wars.

Imphal and Quebec the Ferrets, Yorkshire Regiment
In 2010, a prior iteration of the 1st Battalion in The Yorkshire Regiment welcomed Imphal and Quebec, two ferrets, as a gift from a local farmer whilst stationed in Munster, Germany.
With their own military jackets and passports, Imphal and Quebec took part in Parade Marches for the Regiment until 2012.

Snuffy the Tortoise, 94th Regiment of Foot
It is thought that Lieutenant Joseph Pilkington discovered a tortoise between 1859 to 1866 during his service in India for the 94th Regiment. Upon Pilkington's retirement in1869, the tortoise was presented to his Regiment and was adapted into a decorative snuff box to commemorate the mascot.

Lance Corporal Bobby the Antelope, Royal Regiment of Fusiliers
An Indian Blackbuck Antelope called Bobby was originally the mascot of the Royal Warwickshire Regiment, originating between 1825-1841 whilst stationed in India.
This Regiment developed in structure to the Royal Regiment of Fusiliers by 1968 and the tradition continued for over 150 years until 2005 when the final Bobby was retired. There has not been a new Bobby since this time as the species is considered protected however his image is emblazoned on the buttons of every Fusilier's No1 and No2 dress uniforms.
Back to news articles