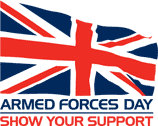 Today we celebrate Reserves Day, as part of our week long observance of Armed Forces Week 2020

Reservists balance civilian life with their military career, giving up their spare time to serve in our Armed Forces.
We are very proud of the reservists on our team; we place real value in the knowledge, skills and experience they bring from their service to their day jobs at MPCT.
We have 3 of our 10 Reservist staff mobilised at this moment. MPCT would like to say thank you to all of our Reservists for stepping up to protect the nation's security at home and abroad.
Back to news articles