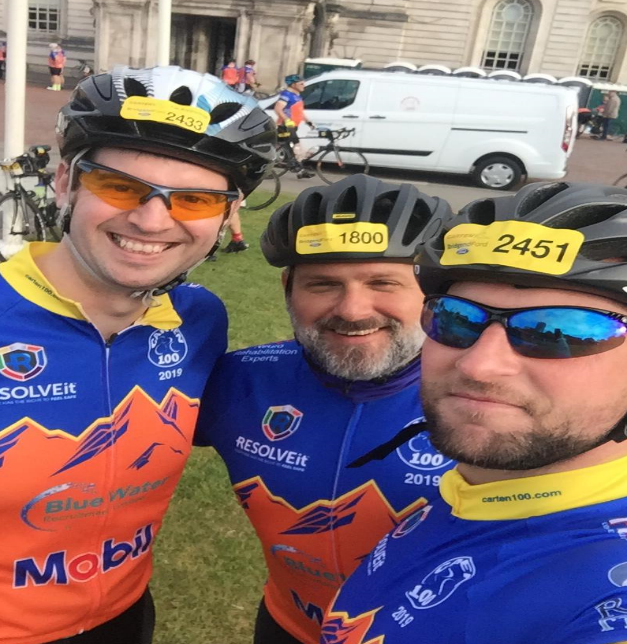 Below is a write up of a recent cycling challenge that some of the Staff of MPCT took on in a couple of weeks ago; Staff Richards of MPCT Cardiff, Gary West (Head Office) and Gareth Athur (Head Office).
Staff Richards wrote;
At the start of the year I received an email from Gary asking if I would like to take part in a bike ride event called the CarTen 100 and after giving me some in depth information about the event ("it's 100 miles and you get a nice cycle jersey") I was sold. I have always enjoyed cycling and personal challenge but it was the thought of taking part in an event with MPCT work colleagues that excited me most as I am a strong believer in building good social and professional relationships through group achievements.

Myself, Gary and Gareth started to make plans. Whatsapp group communication set up (check) Bikes cleaned and serviced (check) gels and powders purchased (check) travel and logistic arrangements (check) route familiarisation (check) seeing if we can still get in to our lycra (check) (well maybe that was just me). All that was left to do was actually get on the bikes and do some training. Start off easy, 20 miles, 30, miles 40 miles, 60 miles and 80 miles planned over the coming weeks, that's 230 miles of preparation. However, with demanding children and a high maintenance wife, life would only allow me to do all of 28 miles (that's 12% of my training goal……if my son's calculation is correct) of total preparation! But I'm robust, resilient and stupid so dropping out was not an option.

As April 27th grew closer the reality of cycling from Cardiff to Tenby started to hit me especially as the weather forecast was even scarring the ducks and with the knowledge that I was under prepared. I'm not a religious man but I prayed that the event would be cancelled and a few nights before the event my prayers were answered with sever weather warnings resulting in the CarTen being cancelled for the first time ever.

I'd be lying if I said I was disappointed but at the same time I looked forward to the event being rescheduled. Due to the hard work of the event organisers, an alternative date was announced for June 1st which gave us a few more weeks to get ready. This time around I gave the distance the respect needed and got lots of time in the saddle with plenty of early morning training rides.

We set off from Cardiff with the beautiful Welsh sunshine on our backs, full of energy and excitement. Mile by mile passed by with the legs feeling strong and plenty of laughs and smiles along the way. The atmosphere was excellent and it was amazing to see so many cycling enthusiasts of all abilities taking part. However, you could sense the change of mood in many riders at the feed station on mile 78. The temperature had risen, the legs were getting tired and dehydration was setting in. There was a sense of apprehension between riders with whispers of "this is where it starts to get HARD" and true to their words, the next 30 miles where as challenging as it gets. Undulating hills and steep climbs were the main feature of the course and gritted teeth and a bit of soul searching replaced the smiles and laughter. I would not have thought any different of Gary or Gareth if they had stopped, got off and walked or even pack it in completely which many people did but I should know by now that these are not just your average people, these are MPCT people through and through and both displayed the core values that are ingrained in employees and students so I knew that giving up would not have been an option to them.

We all finished in Tenby and celebrated our achievement with a few drinks and laughs. I have always held both Gary and Gareth in high regard but I now have a new found respect. I believe this experience is both inspiring and motivating to our learners as it demonstrates the same values that we teach. This experience has also motivated me to want to take part in more events with my MPCT colleagues and I am looking ahead in the calendar to plan and organise entries in to various challenges and bring the MPCT family closer together through challenge and achievement.
Well done and congratulations, you are great role models to our Learners and show how hard "MPCT people through and through" work!
Back to news articles