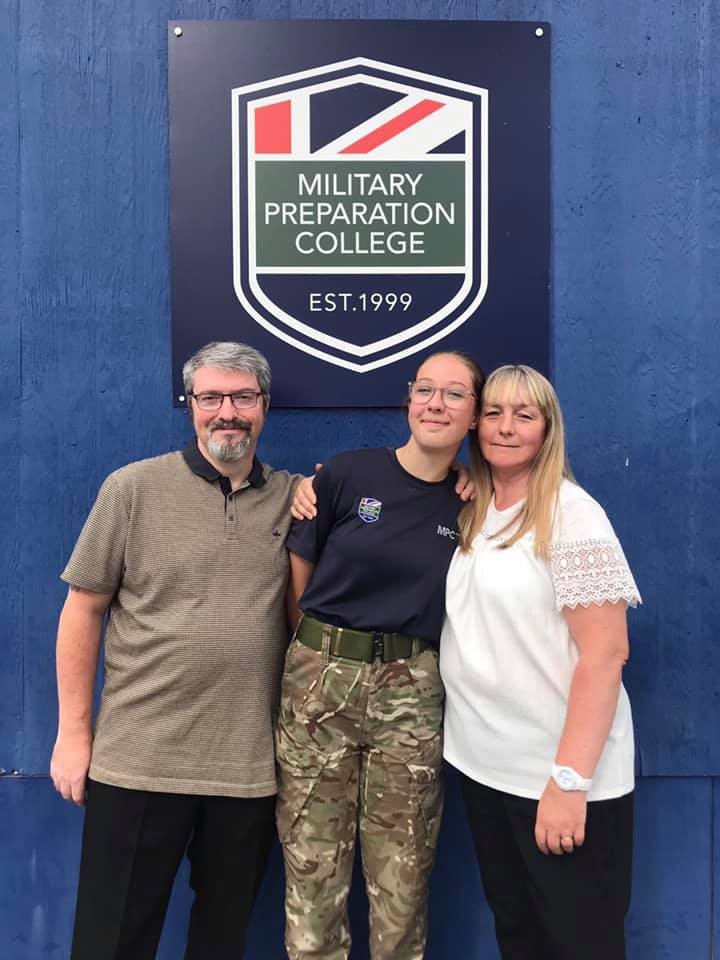 This week our Military Preparation College at Aldershot said farewell to Miss Emily Colman, who is leaving to embark upon her military career. Miss Colman has seen enormous improvement in her personal skills and qualities and has become a fine example of an MPCT Learner. Since starting the course she has greatly improved her confidence, fitness, discipline and leadership skills. She has shown great potential and we are confident that she will be successful with her future endeavours.
"My name is Emily Colman, I am 17 years old and I have been at MPCT since September 2020.When I joined I had little to no fitness and found that I shyed away from things. However, since joining MPCT I feel as though my overall fitness and mentality have improved. I definitely recommend MPCT, it gives you a great insight to the military, teaches you new skills and gives you so many opportunities. The staff at MPC Aldershot are always there to support you, whether it be to do with your application or not, and never fail to challenge you to do your absolute best and beyond. As well as the staff, MPCT has introduced me to the greatest friendships and lifelong friends. I couldn't thank everyone at MPC Aldershot enough, I wish you all the best with your future careers!"
Here's what proud parents Mr and Mrs Colman had to say about their daughter's achievements during her time at MPCT.
"Aldershot MPCT – such an amazing experience; not just for our daughter but also as a parent of someone with their heart set on becoming a proud British soldier.
Aldershot MPCT really should be at the top of the list for anyone considering joining the Army. You'll get driven hard and pushed to your limits, but you will gain so much knowledge and insight of what to expect when you go into phase 1 training and far beyond.
This is not a walk in the park, don't expect it to be easy. It's more of a slog across the plains, but one you will learn to love, with experiences and friendships you will remember for the whole of your career.
But, we are not just proud of our daughter for her achievements with MPC Aldershot, but also proud of all the other individuals that attend this centre of excellence. We have watched them grow from teenagers into fine young army candidates. It's amazing and quite moving to see them all lined up in their uniforms on parade, and we want to let them all know we are proud of them all.
Finally, we must give a huge thanks to the staff at MPC Aldershot; you work relentlessly to build your candidates into fine soldiers. With your top level training and guidance we are sure that each and every candidate that comes out of the gates of MPC Aldershot will go far with their army careers. We can't thank you all enough for all you have done for Emily and all your other candidates.
Both Emily and ourselves will miss you all."
Mr & Mrs Colman – The Proud parents of Emily Colman, MPC Aldershot.
Everybody at MPCT would like to say well done Miss Colman, we all wish you the very best of luck. Keep up the good work!
Back to news articles