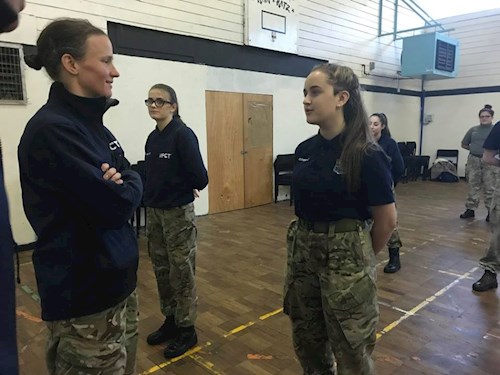 Teenage girls at Military Preparation College's across England and Wales are eager to join the British Armed Forces. They are taking part in physical training every day alongside young men. They are developing their fitness and their military knowledge. They aren't your average teenage girls but they are growing in number.
Every year, more women are applying to join the British Armed Forces. If they start the Phase 1 training process they have a tough time ahead of them.
Over a period of 14-weeks, they will go through the same gruelling training as any male recruit. They will learn to attack and survive on the battlefield. It's not a job for the faint-hearted.
In a little over 3 months, those that can endure the training will pass out as members of the British Armed Forces.
At 1 April 2017 there were 15,270 women in the UK Regular Forces and accounted for 10.2% of the total strength. [1]
At the Military Preparation College (MPC), 22% of students are female. Since the College opened over 300 female students have progressed from the MPC course and joined the British Armed Forces.
The Military Preparation College and the British Army have a shared agenda in increasing the number of women joining their ranks. The data highlights that the percentage of females joining the Army after attending the MPC is significantly higher than the percentage of females in the general population who join the Army without attending the MPC.
Why do women choose to join the Army?
The British Army is an equal opportunities employer: "When you join the Army, you can be sure the challenges, rewards and opportunities are the same whether you're male or female."[2]
We invited Captain Rosie Hamilton, who was a troop commander at the Army Training Centre Pirbright, who featured in Channel 4's British Army Girls fly-on-the-Army-barracks-wall show, to spend the day with our female students from our South Wales Military Preparation Colleges. We asked her why she thinks young women today might want to consider a career in the British Army. She comments:
"I think it offers an incredible challenge if you want to do something that is going to take you beyond normal boundaries and normal experiences, the variation in terms of what you will find yourself doing is pretty much unparalleled. I was very clear, I did not want to wear a suit and sit behind a desk. It's just a completely different experience and it's a job that allows you to continually develop yourself across so many different areas. The lifestyle and the friendships that you make, particularly when you go into through training, are unlike the friendships you will make anywhere else because you have that shared experience of something that's brilliant but also horrendous and challenging and you get to know yourself better than you will doing anything else."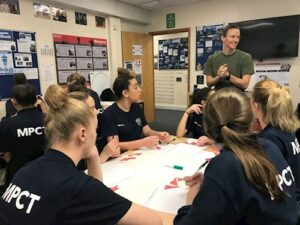 The Army and the RAF have already opened up combat roles to women with the Royal Navy due to follow suit in 2018. This will open up opportunities to women across the UK.
We wanted to ask our female students at the MPC why they want to join the Army and here are some of the responses:
"I can't wait to join the Army and I want to earn good money."
"I want to join a combat regiment."
"I want to push myself as far as I can."
"I don't want to work in an office."
"I want to travel the world and do something different."
They want to do something different, prove themselves, do something exciting, push themselves to the limit. There is no difference between what male and female young people want from a career in the military.
Captain Hamilton inspected the female students on parade and asked them where they were in the application process to join the armed forces. There is one role within the Army that many of our female students aspire to – Combat Medical Technician. Perhaps the hit TV show Our Girls has raised the profile of this job for women. Perhaps female applicants are thinking of their long-term careers and are choosing the medic role as it has a natural pathway for them if they leave the military. Or maybe it's a sign of the higher levels of empathy women have – the role requires it in bucket loads. Perhaps it's a combination of factors.
Regardless, these young women will lead, they will follow and they will fight. They will struggle, succeed and survive. They will earn good money, they will see combat, they will push themselves to their limits, they won't be stuck in an office and they will see things and places that most civilians will never know existed.
These young women are achieving their dreams.
MPCT openly encourages new recruits to join on a weekly basis throughout the year on a 'roll on, roll off' basis. For those interested in careers in the Armed Forces, it provides the best possible chance to pass selection and complete basic training. For others, it's a chance to acquire valuable new skills and qualifications, setting them up for either further education or employment.
Anyone wishing to apply or looking for more information can visit www.mpct.co.uk or call 0330 111 3939.
[1] House of Commons Library BRIEFING PAPER Number CBP7930 29 June 2017
[2] http://www.army.mod.uk/join/Women-in-the-Army.aspx
Back to news articles