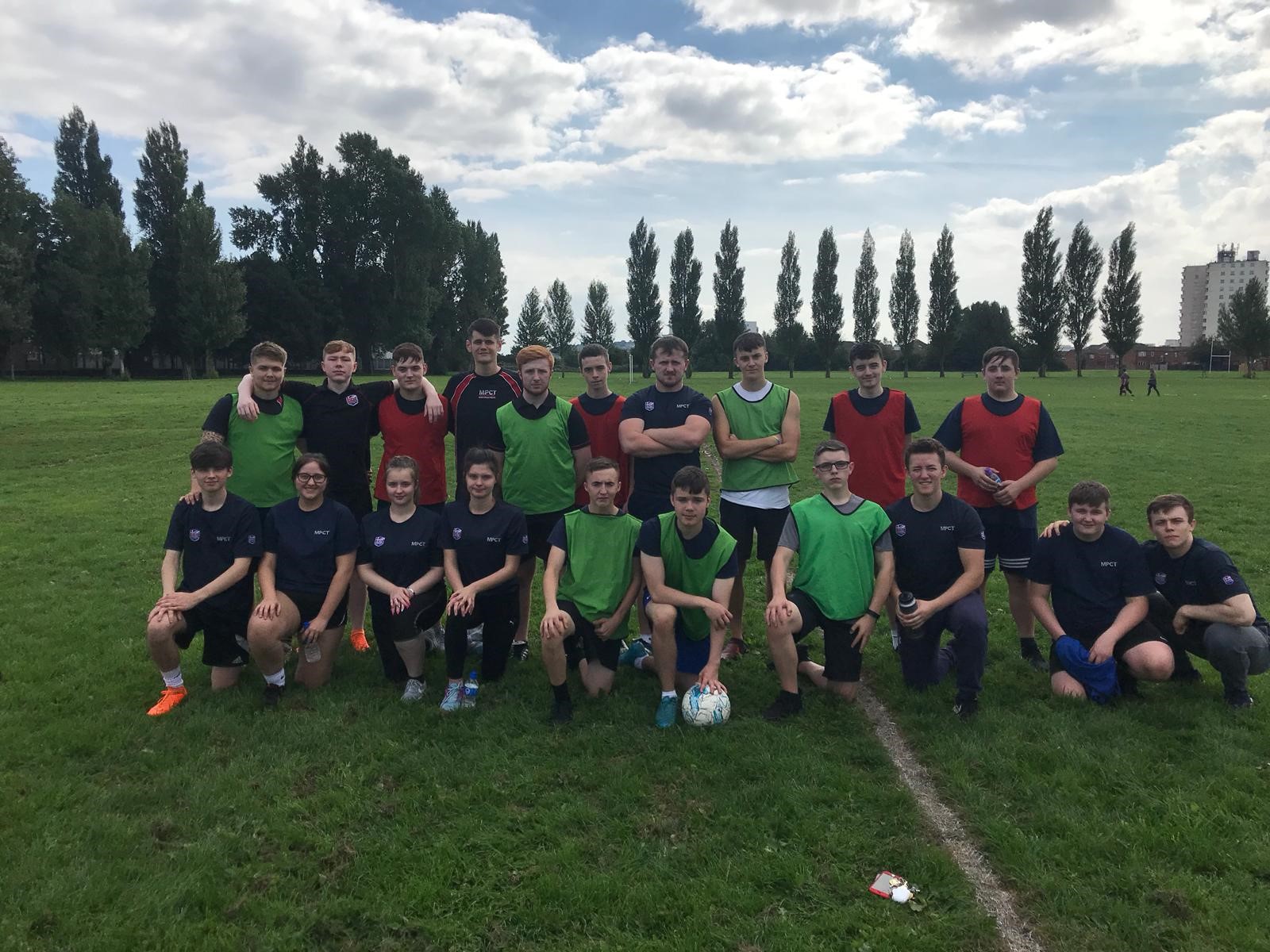 On Wednesday 5th September 2018, the MPCT Sports Academy launched its first Inter-Centre Competition. The event was aimed at providing an opportunity for students to take part in a purposeful sports competition, develop sportsmanship and continue to develop relationships between centres. The event also allowed outside agencies and partners to officially visit the Cardiff Sports Academies new premises at Channel View Leisure Centre.
Prior to this event, the students were set a challenge to raise funds which would go towards travel arrangements from Rhondda to Cardiff and providing lunch on the day for all participants. The fund raising was a success, and after all costs were covered, enough was collected to make a significant contribution towards the MLT charity.
During the morning, the students took part in an inclusive sport called End Zone, (a hybrid game of American Football and touch rugby) aimed to develop agility, balance and co-ordination. Each centre provided 3 teams and competed in a league tournament. The games were fast and competitive, with great examples of team work, leadership and skill involved. The eventual winning team from the Rhondda centre consisted of Jac Harvey, Dafydd Harvey, Rhys Griffiths, Dawson Cotter, Liam Robinson and Chloe Facey who remained unbeaten in the all games.
In the afternoon, Rhondda and Cardiff played against each other in an 11 aside football match. The 1st half was evenly contested and at half time the score was 1-1, goals coming from Kieran Elliott for Cardiff and Jordan Thomas for Rhondda. In the 2nd half Rhondda started to pull away in the contest, with Jordan Thomas completing his hat trick, Jake Baldwin scoring and a phenomenal finish from Dawson Cotter from outside the penalty area, adding the goals to make it 5-1 to Rhondda. Noteworthy mentions are to be made to both centres captains Liam Hughes and Kieran Elliott for showing fantastic leadership through the game and Cardiff goalkeeper who kept her side in the contest in the first half with some impressive saves.
The day was an overall success and the aims of the day were met. All students enjoyed the sports and are keenly awaiting the next competition, which will take place in the Rhondda before Christmas 2018.
Back to news articles