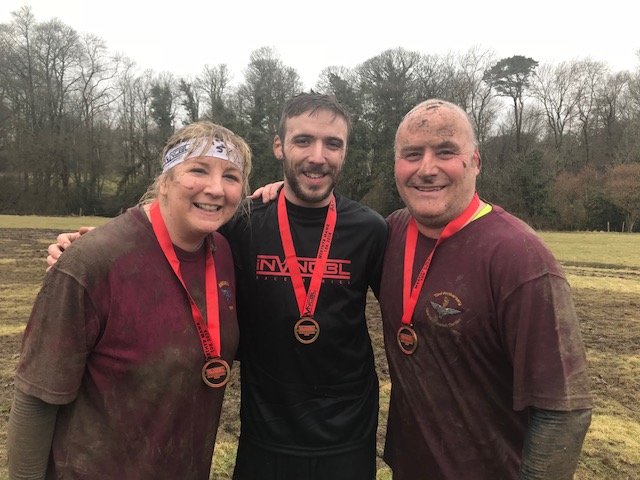 Over Sunday dinner sometime in early October 2017 with my wife Claire and son Michael, Michael had a light bulb moment and said that we should all do INVNCBL at Merthyr Mawr at 1000 hrs 10th March 2018.

With the seed firmly planted in my mind, later that evening I signed the 3 of us up to do the event. No messing about, Wave 1 with the Elite Runners………. BOOM!

New Year was celebrated with several beers topped off with a chicken Vindaloo, with a view to start training in the near future. Second, third and fourth weeks of January soon past and my training started by downloading the Couch to 10 K app, Day 1 of training complete.

Over the coming weeks I dusted my issued Nike Silver Shadows off and started, I moved all the coats off the running machine and punched in 5 kms. Job done. Day 2 of training complete.

Race day, a big fry up was required, dressed like pro runners we departed to the event, parked the car after being towed by a tractor into a field that looked like scenes from the 3rd Battle of Ypres 100 years ago!

After a 30 minute delay and the DJ from Nation Radio trying to keep everyone in Wave 1 happy, but failing we were off in a puff of blue smoke which did the lungs a lot of good even before crossing the start line. In good old army tradition I propped up the rear of the elite group, 20 m in, the first obstacle, rest bite at last, under and over wooden planks of 4×2 into the wilderness of the Merthyr Mawr Estate.

Peet Jnr raced off ahead reminding me of myself some 30 years ago. 20 minutes in and the Peet elders are covered in mud and wetter than the contents of a 500ml bottle of Brecon Carreg, we reached the swinging bridge in the village.

Not being the last runners in Wave 1, Wave 2 runners were now overtaking the Peet elders. Feeling good we headed into the woods through more water and mud, 4kms in and we were now at the foot of one of the largest natural sand dunes in Europe, 'The Big Dipper'.

Halfway up both Peets morale wasn't good, as for myself the good people of Porthcawl must have been struggling to breathe as I was sucking in all the oxygen!

Hand in hand Peet Snrs made the top and down the other side in seconds. Mud was replaced by sand, but was quickly washed away by yet more water.

6km mark the 2nd water point, rationed to a mouthful, so we had 3 cups each! Next a steep grass hill, this time the good people of Ogmore-by-Sea suffered reduced oxygen levels.

Bonus moment, a water slide, 'weeeeeeee' off the blue sheet on to a mud slide, up and at them down the hill into the woods. This was painful on the legs, the mud was 150mm plus deep, again thoughts of 100 years ago entered my mind. Claire's hair at this point was caked in 10mm's of thick brown stuff, as for me the mud kept my head warm!

Last leg, 1 km to go, 30 plus obstacles later and the last 3 were clearly in view, my tender age of nearly 55 was now taking its toll. Crossed the road and was met by Peet Jnr who completed the event in 1 hr 27 mins, seeing him cheering us on boosted morale back to high levels both Peets were now standing on a 12 metre platform waiting to jump into a big inflatable bag.

Not being au fait with height, thoughts of parachuting from the balloon entered my mind, 'what am I doing! Red On, Green On and I was in mid air and down. Claire soon followed and we all crossed the finish line as a family in 1hr 58mins. T shirt and medals soon followed with the mandatory bag of things. So proud of Team Peet.

On reflection the event was great fun and later I realised that spending time as a family these days was getting less and less, Michael is a young man finding his way which is an important part of life. As for me, at 55 years old I can look back and say that's another 10kms to add to the countless 1000's I did in my military career.

Brian Edwards, our Senior Director asked "what's next"?……. other family events will be arranged, some using less energy!
Back to news articles