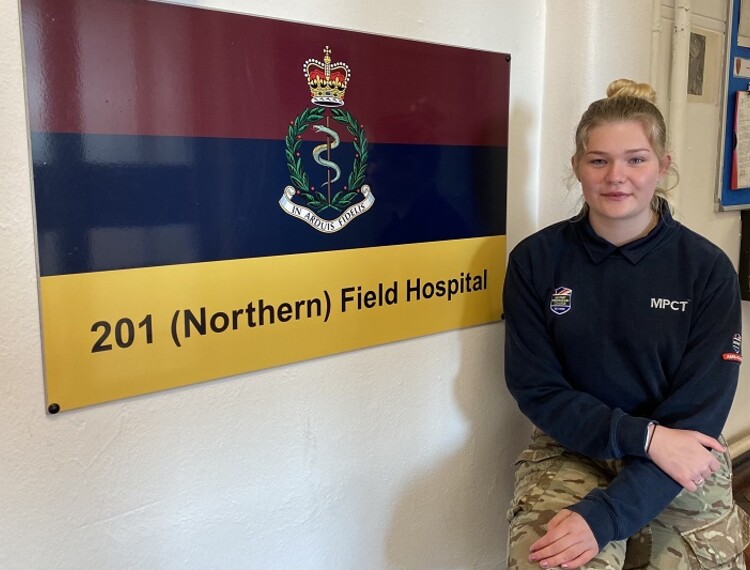 MPCT Catterick learner, Debra Bell, is preparing to follow in the footsteps of BBC's "Our Girl" and become a frontline army medic. Debra has had her sights set on joining the Army from a young age, originally as a System Communication Engineer. However, due to inspiration from the Military's role during the Covid-19 pandemic, she now intends to join the medical corps.
In September, Debra will embark on a 14-week basic Army training, followed by 22 weeks at the Royal Army Medical School, at DMS Whittington.
Like Michelle Keegan's character Georgie Lane in the BBC One show, Debra wants to save lives on the frontline across the World – and she is now in training to ensure she is at peak fitness and form when the time comes as, along with intense physical training, she is developing her leadership skills in the role of College Ambassador.
"This has been the perfect course for me," said Debra, "because it's given me the best possible preparation for a military career.
"I always knew I didn't want to go to university, get a job, get married and settle down. I want to travel the world and I want to help people – to save their lives if I can – and I can't wait to join up in the autumn.
Former Sandhurst instructor, Lawrence Corbett, said Debra embodies the focussed, results-driven approach instilled by her training team.
"A can-do attitude is embedded in us, as former military personnel ourselves and in our role training our young learners," he said.
"Not all our students progress to military careers by any means, but Miss Bell has had her sights set on the Army for a long time.
"She knows what she wants and we have helped her get to the point where she can have it. She will be an asset to the armed forces and we are all very proud of her."
Back to news articles