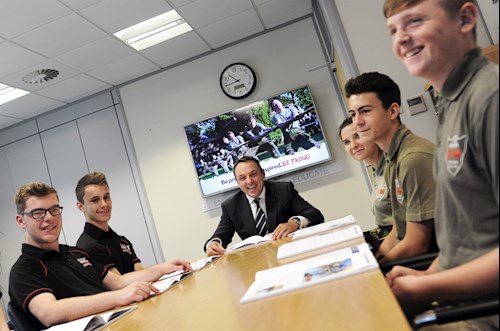 At 16 years old, Huw Lewis wanted to join the Royal Marines. Focused on his mission, he set off from his parents' house in North Wales for his army medical examination in Liverpool. Within 30 seconds of meeting the doctor, his dream was over, his application rejected because he had hay fever.
Unshaken, he got on the bus back home, taking a detour to the army careers office in Wrexham, where …
Lewis quickly excelled in the army and, 10 years later, having passed the Royal Marines commandos course, he was working in the recruitment office. Compelled by the many young people he encountered there who had great potential but wouldn't be accepted at that point, and who might lack the resilience he'd had to keep trying, he submitted a proposal to set up a military preparation programme.
His first classroom experience, a maths session with 33 students, was, by his own admission, a disaster. Rethinking his approach, he took inspiration from army training and combined mathematics principals with physical activity outside. Lewis explains: "They were running around all over the place and they loved it. We got through twice the learning in half the time without any pushback. I thought, 'We've got something here.'"
Though he was only halfway through his military career, he was inspired by working with young people, so decided to leave and start his own training organisation. He borrowed money, rented buildings, then hired and trained staff, in the early days doing everything from the cleaning to the accounts himself.
Since its formation in 1999, his organisation – known as the Motivational Preparation College for Training (MPCT) – has expanded to 27 locations in England and Wales, having trained many thousands of young people. It's free to attend, there are no qualification entry requirements and students can begin their course at any time of the year.
Learners from the college have a 90 per cent success rate at military assessment centres, and 94 per cent success at phase 1 British army training. As well as providing military training for 16- to 19-year-olds, the MPCT runs sports academies and school programmes for 14- to 16-year-olds. Earlier this year, MPCT was named Training Provider of the Year at the Tes FE Awards 2017.
Anyone visiting MPCT Birmingham would be bowled over by the poise and confidence of the 16- and 17-year-old students they meet, many of whom had been self-confessed "rascals" at school. Dressed in pristine uniforms, a group perform a highly professional scripted presentation followed by a poetry recital. In the gym, a different, larger group carry out a series of choreographed military drills and physical training displays.
Their expertise is impressive (and slightly intimidating). The speedy transformation of young learners from school-leavers into disciplined future military professionals leaves one question: how does MPCT do it? Of course, there are a multitude of incremental steps, but here are just a few of MPCT's strategies for success:
Create routines
Positive routine creates normality from what, for many, is a chaotic life. There's a free breakfast club to start the day, with irons and ironing boards provided for students to prepare their kit ready for the daily 9am inspection. This robust routine promotes the college's core values of diligence, pride and dedication.
Change mindsets
Staff take 100 per cent responsibility for the students' learning, with an initial expectation that students don't want to learn and that staff will have to change that mindset. There is a ratio of 4:1 in terms of positive versus constructive feedback. There is also a focus on "catching learners doing something good" and the implementation of Carol Dweck's theory on "the power of yet" – an approach based on the assumption that people can improve.
Vocational focus
Around 50 per cent of the curriculum is based on physical fitness as learners need to achieve certain fitness levels to join the armed or uniformed sectors. English and maths is taught using contextualised work books with all aspects linked to military practices and skills, though instructors aren't constricted by the lesson plans, taking advantage of every opportunity for learning.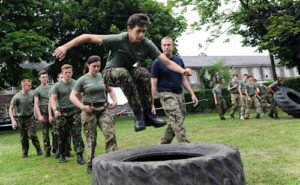 Mutual respect
All staff are former military personnel, bringing their past working life into everyday teaching. It's part of their employment profile that they are role models first and foremost.
MPCT staff are held in such high regard that disruptive behaviour isn't tolerated by other students, so the classroom environment becomes self-managing. Staff address students in a formal manner – it's Mr Jones or Ms Evans – and the students reciprocate.
Before their lessons, students wait outside the room and, upon entry, the instructor shakes their hands. And when a member of staff enters a room, the learners all stand, giving that member of staff the opportunity to thank them.
'Energiser' interventions
Classroom sessions are interspersed with "energiser" activities, many of which involve a change in the learning environment, using outdoor spaces as much as possible. An energiser might be a quick game to get learners moving and reacting to information, or it might be a longer team challenge to enhance problem-solving skills. Energisers are done on a daily basis. The practice allows instructors to assess learners' individual progress as well as consider the team dynamic. It's a constantly changing paradigm as the students continually grow in confidence.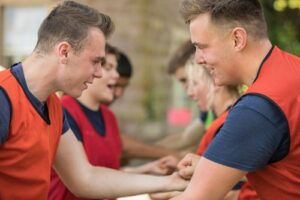 Back to news articles