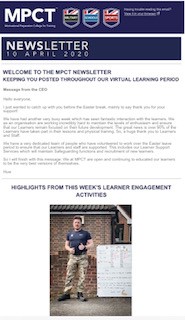 At MPCT, we publishing a regular weekly newsletter. This is an essential aspect of our communications strategy.
Why it's important to issue our MPCT Newsletter
1. Students, their friends and family and partners are an integral part of a MPCT's overall network, but there are many people outside of these groups that are interested in what's happening at MPCT. By offering a newsletter to an our extended audience, we will share the great things happening across MPCT  to various subsets of the external community, including potential partners and prospective students.
2. Ultimately, our newsletter helps MPCT stay connected to our communities. We offer subscribers a regular dose of MPCT-related news and information, we are also giving you another way to contact us and to keep in touch. Even as students or alumni, you will likely stay subscribed to our newsletter, thereby preserving the relationship you have with MPCT.
3. One of the greatest advantages of our MPCT newsletter is that we can provide you with information on important news, updates, and events. For example, you can see the wonderful activities that are taking place across ALL MPCT locations throughout the United Kingdom.
So, how do you subscribe so you don't miss out on the weekly MPCT insight? It is easy : In the footer of every page on the website you will see ' NEWSLETTER SIGN-UP'. You are required to complete:
Forename
Surname
Email Address
Then select 'SUBMIT'
You will then receive our MPCT Newsletter directly in to you inbox every Friday.
Back to news articles